White Swiss Shepherd 2
Code:
Dv316
Embird Stock Designs Catalog
Patterns for Computerized Home and Industrial Embroidery Machines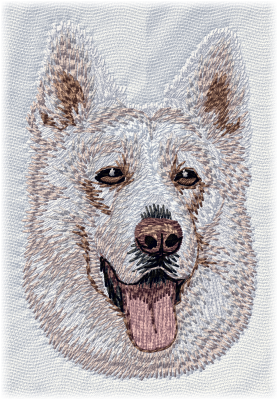 File: Dog Embroidery Design (Pattern)
Category: Machine Embroidery
10 colors / 10 thread changes
Sizes (imperial):
2.56; 2.95; 3.34 " height
Sizes (metric):
6.5; 7.5; 8.5 cm height
Stitches:
8800; 10300; 12000
Color List
Thread Consumption
The unit
price
decreases from
US$ 12
to
US$ 5
as you add items to the cart.The unit price is $8 for 10 items, $7 for 20 items, $6 for 30 items. It reaches the $5 level if there are 120 or more designs in the cart.
Available stitch file formats:
Tajima .DST, Compucon .XXX, Poem/ Singer EU .CSD, Melco .EXP, Babylock .PEC, Pfaff .KSM .PCS .PCM, Viking .HUS, Janome .JEF, Pfaff/ Husqvarna Viking .VIP .VP3, Bernina/ Brother/ Babylock .PES, Elna/ Janome/ New Home .SEW
Disclaimer: above thread colors are for information only. BALARAD, s.r.o. does not quarantee their accuracy and correctness. Reference source for colors selection was Madeira embroidery thread catalog. Other color codes were found with use of conversion tables.
Copyright © BALARAD, s.r.o. All Rights Reserved.